| | |
| --- | --- |
| | Choosing a Breed |


CONTACT

Nancy Hook
10829 Old Raleigh Wilson Rd.
Middlesex, NC 27557

252-235-2545

Email

E-mail

Copyright 2002-2018
Hook's K9 Training
Nancy R. Hook

All Rights Reserved



"Money can buy a pretty good dog, but it can't buy the wag of its tail."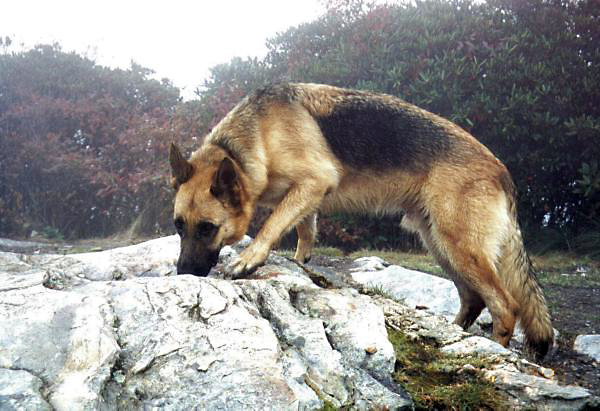 Many "problem" dogs are just dogs who find themselves in homes that aren't suitable for their temperament.

My dog Indiana came to me after 2 other homes, where he raised pure hell. He was from working lines, and was not suited to the quiet life of a pet. When he was introduced to search and rescue work, he finally had an outlet for his boundless enthusiasm and busy mind.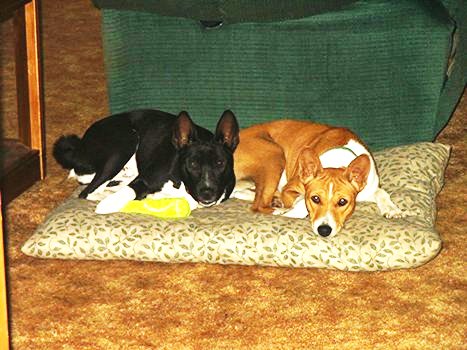 That little black dog on the left is a Basenji named Anubis. One of my students was told Basenjis are "moderate energy" dogs who are "well suited to apartment life" because they're small and can't bark. Well, Anubis never heard the term "moderate", and though Basenjis are barkless, they are far from silent--their repertoire of yelps, screeches and strangled screams is staggering! He wreaked pure havok in her life--screaming bloody murder when he was crated (I'm sure the other apartment dwellers were sure she was torturing him!) and when he was let out it was even worse-- tearing at her clothes, biting at her, never giving her a moment's peace, making her life miserable.
This behavior culminated in one fateful episode: escaping from his crate at her parents' house (he had learned to bite the latch to squeeze it together) he somehow managed to turn on the kitchen faucet full blast, greeting Mom and Dad with $1,000 worth of damage upon their arrival home. Leslie knew she had to place this dog--her life was being made miserable. She had done all she could and was at the end of her rope. Her lifestyle and his needs didn't come close to agreeing.

Anubis came to my house on a Monday night, to await pickup by Basenji Rescue and Transport (aptly abreviated as B.R.A.T.) on Friday. Here he ran and wrestled with our dogs and our canine campers for hours on end, and by evening was ready to come in the house, where he ran laps with our own Basenji, Zelle, till she gave out. Then he would "attack" our tough little blue heeler, Rodeo. Finally even Rodeo would call it quits. Only then was Anubis satisfied to jump up on the couch with us and relax.
By Wednesday, I had decided to tell Leslie to contact B.R.A.T. and let them know Anubis had found a home. In this setting, he is a nearly perfect little dog. Same dog, different lifestyle.

Leslie and Anubis were obviously mismatched. Leslie was misled by a backyard breeder who was only interested in making some money. If Leslie had been encouraged to talk to other Basenji owners or experienced trainers, she would have had a more accurate picture of the breed.

I can't tell you how often I see this! The lucky dogs find new homes that suit them better, the unlucky ones are passed from hand to hand, never fitting in, and then there are the ones that are simply given up on and put to sleep.









If you have AOL, click here for their Dog Match site.

This is a neat place to help narrow down your list of breeds. Through your answers to the questionaire, it selects breeds in order of suitablity to your preferences and lifestyle. I filled it out, and it was right on the mark as far as my breeds go. Try it, and see if it surprises you. I'm sure there are other sites like this out there if you don't have AOL.