| | |
| --- | --- |
| | Summer Care |


CONTACT

Nancy Hook
10829 Old Raleigh Wilson Rd.
Middlesex, NC 27557

252-235-2545

Email

E-mail

Copyright 2002-2018
Hook's K9 Training
Nancy R. Hook

All Rights Reserved




The Camp Hook pools are open--
let the games begin!

This is North Carolina--we jump from winter right into summer!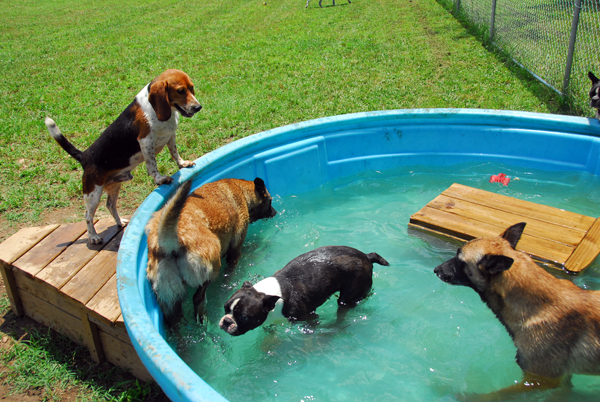 The pool is more than a diversion--in hot weather it is a necessity. Dogs don't sweat like we do, so they can more easily overheat.

Above all, make sure your dog stays hydrated! He should have access to fresh water at all times.

As CamelBak
exhorts:
"Hydrate or Die!"


Watch your dog for signs of heat stroke:

Rapid, heavy panting
Excessive drooling
Vomiting
Impaired coordination
Confused or panicked look
Loss of consciousness
This is an emergency! Have someone call your vet. Immerse the dog in cool water or run a hose over him, concentrating on his chest area. Continue this for at least 20 minutes! Then keep him cool while transporting him to his vet. If you rush him to the vet before cooling him down first, he could be dead before you reach the vet. Cool him with the hose for at least 20 minutes before anything else! Then transport him to your vet.
Heatstroke can cause brain damage and death.


Crucial to your dog's summer survival:

Water: Must be changed frequently to stay clean and cool. I snap my buckets to the fence to prevent turnovers.

Shade: Trees, shadecloth, raised roof. No tarps draped over kennels--they trap heat, hold hot pools of water, and will roast your dog!

Ventilation: Lack of ventilation causes the temperature to rise to dangerous and deadly levels--another reason to avoid tarps!

Vehicles: The safest thing you can do is leave your dog at home. Leaving your dog in a vehicle in the summer is the same as leaving him in the oven. Just not a great idea.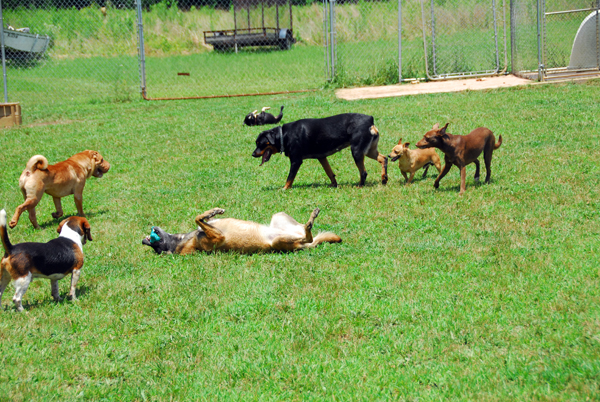 Life is good at Camp Hook!